The digital world is no longer about the product- it's about the experience. User experience (UX) includes usability, aesthetics, utility, marketing, performance, accessibility, and ergonomics.
UX is how a person feels when they interact with a product, which is just as important as the product itself.
So how do you choose the perfect partner to deliver an experience to your customers? Luckily, you are not alone, The AntiAlias is here to help. We are experts in creating user experience, and we have client testimonials to prove it.
How can you know we are experts? Well, according to our ratings and reviews on Clutch, we are one of the top ux designers in India!
We recently received an excellent rating from Label Kiss Retail, a creative retailer based in India. We developed and designed an e-commerce website for the fashion brand. The company specifically wanted a payment system and cart functionality- which we easily provided.
We worked hard on the e-commerce platform that would provide an experience for the customer and be functional, and so far customers have been responding positively to the new interface!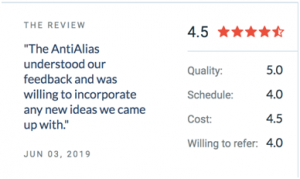 The creative director of Label Kiss Retail gave us such an excellent review due to our adaptability and creativity throughout the project.
"The AntiAlias produced high-quality development work and accommodated last-minute scope changes with ease."- creative director, Label Kiss Retail
Label Kiss Retail is just one of our many clients from all over the world!